×
We are specialists in machine tools, both in repair and in machine construction.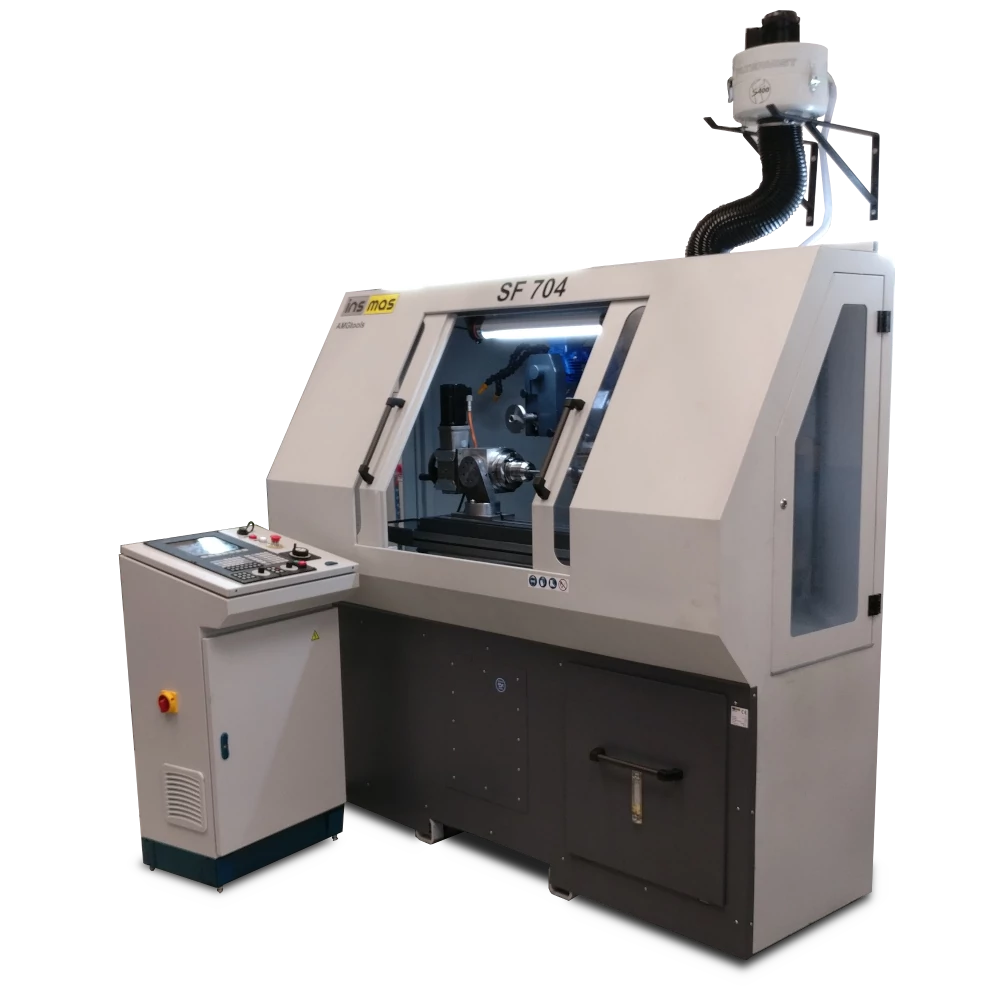 The SF 704 grinding machine is specially designed to meet the most demanding needs in both manufacturing and regrinding processes of tools and special parts, as well as light grinding.
From its solid and robust construction within a modern line, it is worth highlighting the extraordinary versatility of movements and easy adaptability for the execution and development of tools or special jobs that modern industry demands today.
ACCURACY
With the incorporation of probes for reading the tool and the grinding wheel, it is capable of executing complex maneuvers with high precision.
PROGRAMMING
The SF 704 is equipped as standard with the KSF-4 controller, which together with the FAGOR 8055 CNC unit and an exclusive InsMas interface, makes programming very easy and intuitive.
In addition to the standard programs, there is the option of developing any type of special program that the client requires. It is also possible for the user to develop programs using the ISO language.
There are standard programs for the process of sharpening and manufacturing helical burs (back / face), conical burs, joiner's burs (face), undercut diamond burs, circular cutters, programs for grinding and countersinking.
PRODUCTION
The production area covers a very broad spectrum, from the manufacture and sharpening of cutting tools, to the serial processing of special parts. It offers numerous advantages in relation to cost reduction.
Examples of manufactured tools
Technical specifications
| | |
| --- | --- |
| Distance between points with dividing head and tail stock | 450 mm |
| Upper table dimensions | 870 x 150 mm |
| Rotating top table (manual) | ± 15º |
| X-axis (longitudinal movement) | 450 mm |
| Y-axis (transverse movement) | 250 mm |
| Z-axis (vertical movement) | 250 mm |
| U-axis (dividing head) (optional according to configuration) | ISO 50 / 360º |
| Sharpening spindle | up to 6000 r.p.m. |
| Sharpening spindle motor | 1,1 kW Inverter |
| X, Y, U axis motors | 0,75 kW servomotor |
| Z axis motor | 0,75 kW servomotor with electro-brake |
| X, Y, Z axis | linear guides, ball screw |
| CNC | KSF-4 |
| Probe for the measurement of the piece | Optional |
| Manual, horizontal rotary movement of the grinding wheel shaft (optional) | 360º |
| Manual, vertical angular movement of the grinding wheel shaft (optional) | 360º |
| Maximum diameter of grinding wheels admitted for sharpening | 150 mm |
| Maximum diameter of grinding wheels admitted for cylindrical grinding | 200 mm |
| Grease | centralized (electric) |
| Refrigeration | with cutting oil by pump |
| Approximate weight (depending on configuration) | 1250 kg |
| Dimensions (Length x Height x Width) | 2110 x 1970 x 2110 mm |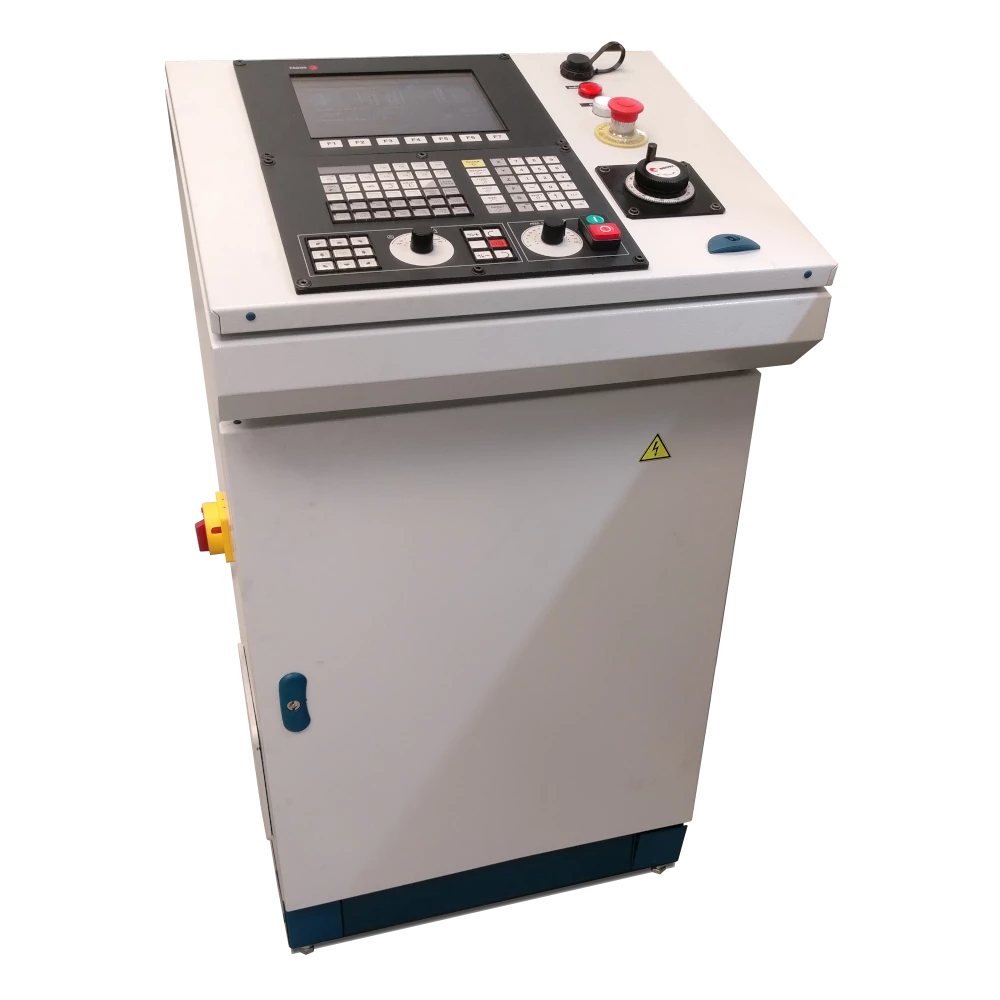 KSF-4
4 AXIS CNC CONTROL WITH FAGOR CONTROLLER
Control unit for machine tool automation.
General characteristics:
Linear and circular interpolations

Analog inputs and outputs

Opto-coupled digital inputs and outputs

Encoder inputs

Inputs for MPG

Activation of stepper motors

Activation of servomotors

Communication 232/485 / CAN

Ethernet connection

USB port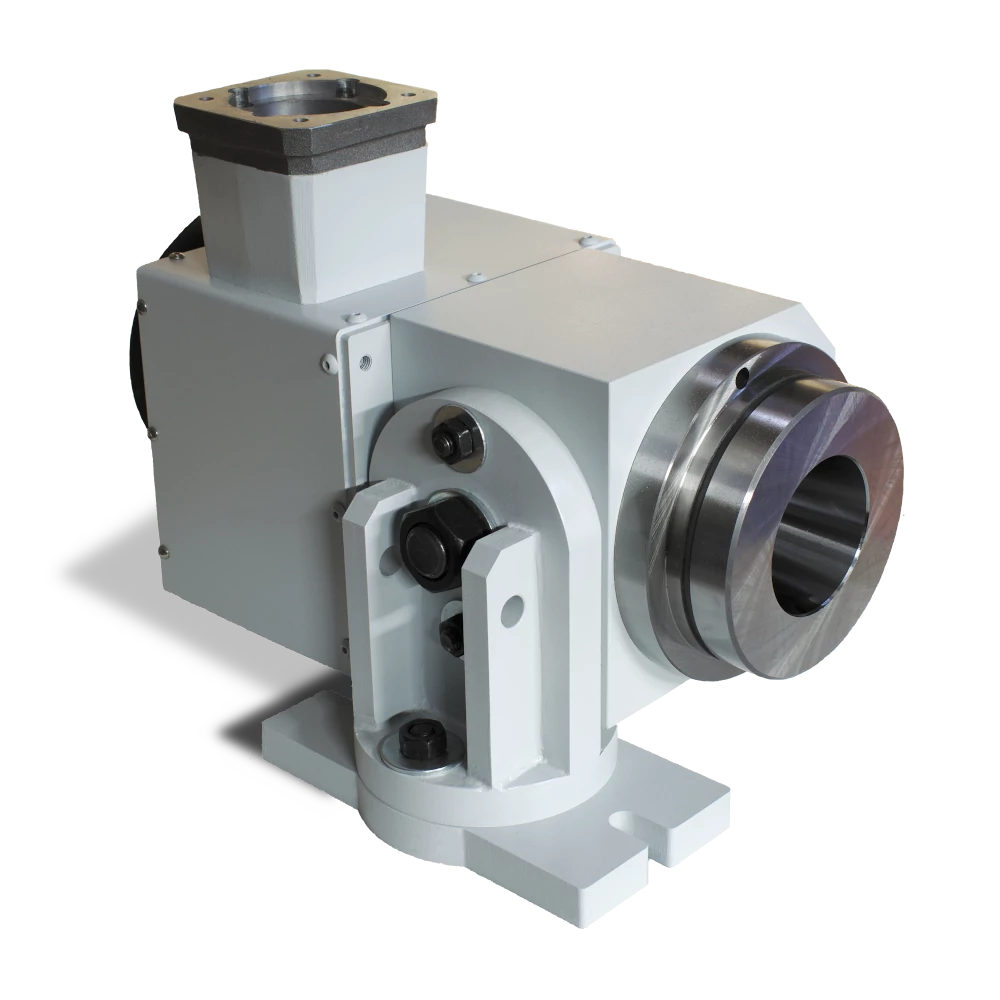 D122
Dividing / rotating heads for machine tools
These heads of robust construction and great precision are suitable for manual, semi-automatic or automatic machine tools, CN or CNC, and constitute the most relevant and important part of the set of drives that make up the machine.
Technical specifications
| | |
| --- | --- |
| Maximum torque | 101 Nm |
| Internal reduction (depending on configuration) | 90:1 |
| Angular velocity | 3000 rpm = 3,4 rad/s |
| Accuracy | < 0,5 arc-min |
| Resolution | ± 0,001º |
| Toolholder housing | ISO 50 |
| Height from dividing center of table (depending on configuration) | 140 mm |
| Approximate weight (depending on configuration) | 40 kg |
| Dimensions Length x Height x Width (depending on configuration) | 150 x 200 x 250 mm |